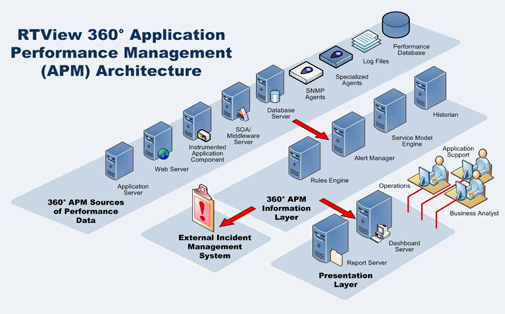 In the most general sense, application performance management is a means of managing internal and third party applications within a website. The primary discipline of APM is to monitor the performance, availability and user experience of various software applications. This is an essential function for all businesses, regardless of concentration. Whether you have a small, highly-focused niche website or a sprawling online conglomerate, application performance management is an integral tool in your arsenal of effective online practices.
In the fast-moving pace of our modern online world, availability of applications is essential at not only retaining visitors, but enhancing site conversions. In fact, in order for an operation to be truly successful, their internal and external applications must flawlessly integrate with the overall user experience. The only way this process can maintain itself is through effective and continual application performance management.
While the exact level of management and monitoring is based upon the complexity of your network and website, APM monitors the three basic levels of web applications:
Server Level – Application performance management captures the pattern of data flow and translates this information to identify the process of each application transaction. This level of monitoring also forecasts response times during times when data center information is consolidated.
Network Level – When applied at the network level, APM reduces the risk threshold of applications while simultaneously optimizing bandwidth usage by providing insight into web traffic patterns for specific applications.
Application Level – This third level of performance management monitors the actual functionality of each application by reviewing response times and diagnosing the root cause of specific issues.
Perhaps the most important element of application performance management, or APM, is its ability to pinpoint issues within an application. To truly accomplish this task, an APM tool must focus on the underlining performance of web applications by performing specialized system checks and highly-detailed diagnostics of application transactions. In the realm of applications, being able to pinpoint the root of an issue is the difference between successful or failing.
Along with diagnosing and correcting issues, APM ensures web applications are optimized for performance and use. It's no secret web users are demanding and expect the highest level of speed and access to information. Even if a single application out of your entire arsenal misfires, this could lead to a significant decrease in customer loyalty and conversions. The unfortunate truth when dealing with online customers is the fact that their experience within your site determines their opinion of your business. If they find your site to be unstable, unpredictable or faulty then they may perceive your entire operation as such. Preventing these misconceptions regarding the efficiency of your business requires a genuine dedication to ensuring website flow and function – and APM is an integral element in this equation. If you're having trouble comparing solutions, you can check out WebApplicationMonitoring.net, a site that separates industry leaders and compares their features against one another (you can type the URL on your browser or visit their site here).
Since application performance directly correlates with revenue and customer satisfaction, application performance management is an effective way to safeguard current and future revenue. Of course, the actual set of APM tools and guidelines you follow are directly related to the level of service and complexity of your website.