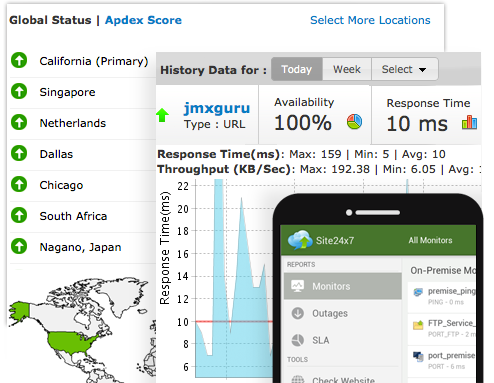 Let's be honest, not every website owner is able to afford the largest and most complex website monitoring solution. While these tools are imperative to ensure the performance and stability of your enterprise does not waver, the cost of these tools force many administrator's to disregard monitoring altogether. Thankfully, you can achieve a decent level of monitoring and oversight without having to pay a dime through free website monitoring solutions. There are a lot of considerations to think about if you're planning on choosing a premium service for your web application monitoring needs, and if you're choosing to do that, then you should do some research online first on a site that details information or compares web application monitoring services. Although these solutions are capable of providing insights into the availability of your website, if you're seeking the most comprehensive coverage without having to subscribe to a premium service, then seek out a free monitoring solution with the following features.
Essential Features for Free Monitoring Tools

When browsing the market for a free monitoring solution, reference the following list to ensure you receive the most comprehensive coverage possible.
Monitoring Locations – For many website owners, visitors are not isolated to a specific geographic location. Therefore, in order to ensure your site continues to operate at maximum performance for all users it must be checked at various locations throughout the country and world. Make sure the free monitoring solution offers several monitoring locations scattered throughout the globe.
Statistical Summaries – In order to review the overall performance and stability of your website, you must have statistics ranging from several hours to several days. This historical data provides you with detailed information regarding average response time, website availability and overall performance. While free monitoring solutions feature limited reporting capabilities, search for one that' capable of delivering statistics for an entire monitoring period.
Page Content Monitoring – Most free website monitoring tools only determine if your website is available; however, there are a select few that offer more detailed monitoring. Choose a tool capable of monitoring page content and link health.
Periodic Performance Reports – Do not use a free monitoring service unless it offers daily, weekly, monthly and yearly website availability and performance reports. While these reports will not be as detailed as a subscription-based service, it does offer a greater scope into the overall stability and performance of your site.
Adjustable Monitoring Frequency – Only choose a monitoring solution capable of adjusting the frequency of monitoring checks. While the majority of free services does not offer the suggested 30-second checks, choose one offering checks every 60 seconds to five minutes.
False Alert Checks – The majority of free website monitoring tools provides alerts to administrator's should an error or issue arise. However, there can be many false alerts, which quickly fill your inbox. Prevent looking over important alerts by using a free service capable of preventing false alerts from being distributed.